Ride for Emma: London to Brighton 2012
Adam, Andy, Ellen, Ian and Mark all took part in this year's Ride for Emma: London to Brighton, after a very soggy event in 2011.
We were hoping for somewhat better weather this year, but when we discovered the forecast we were worried. So armed with full cycle gear and waterproofs we set off from the Royal Marsden Hospital, with the weather unsure of itself.
With just 5 riders this year we were hoping that we would be able to power on through the ride quickly and make it to Brighton before the dreaded rain was due to hit and we soon proved ourselves right when we arrived at Fanny's Farm for a drink and a break. We knew we were ahead of schedule when we arrived before the loyal supporters who had come along to cheer us on.
And so we set off again, knowing that we had already conquered 1 of the 3 major hills. Andy who was a rookie in the event was taking like a duck to water on the bike and before we knew it we had reached Turners Hill (hill number 2 on the route). Like a trooper Andy powered on up the hill, without even a glint in his eye that he was going to give up and get off. The other 4 congratulated each other at the top, then with the thought of food in mind sped along to The Gardeners Arms, where the troop arrived yet again before the supporters (who had stayed at Fanny's Farm for a cup of tea!).
After a great (and long) lunch, we knew that we were well over half way, with only the thoughts of Ditchling Beacon in our midst. Little did we know that the hill (mountain) would be the only issue left with the ride, with the wind blowing a gale head on, drastically slowing down. The weather however remained great in the sun which gave us a reason to carry on. Before we knew it we had reached Ditchling and in high spirits set off to tackle the beast.
Amazingly everyone made it up. Ellen, out to prove that she could do it again, flew up the hill, while following Adam, Ian and Mark. Andy who had been warned about the hill and how to attack it was amazing and powered himself up as well, with pure brute force! An ice cream later, we set off again for the seemingly easy descent into Brighton. The wind however had other things on it's mind and continued to force itself upon us all, at times slowing our speed by half!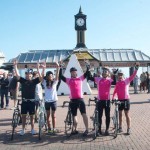 But alas we made it to Brighton in good time to bask in the glorious sunshine to be congratulated by the supporters who then even treater all of us to a pint. Thanks to everyone for the support…it really does go a long way!
For a full gallery of pictures please visit http://www.emmasbubbletrust.org/media/ride-for-emma-london-to-brighton-2012/
https://www.emmasbubbletrust.org/wp-content/uploads/2016/11/Logo-300x212.png
0
0
Adam Lynch
https://www.emmasbubbletrust.org/wp-content/uploads/2016/11/Logo-300x212.png
Adam Lynch
2012-06-17 18:43:50
2012-06-24 18:45:58
Ride for Emma: London to Brighton 2012