The Brookes Family stayed at the flat in November while their son (Ollie) was undergoing intensive treatment. Very kindly Terry (Dad) and two friends Jimmy & Ian are raising funds for us and two other charities by taking part in The Nijmegen Four Day Marches.
Terry, Jimmy and Ian are currently marching up to 50 kilometres a day. All being R.E.M.E veterans, we know that they will have the mindset and drive to complete their task.
Day 1
Day one done, with no major damage to us that would prevent us from reaching the start line tomorrow. Let's see what tomorrow brings.
It is rather warm, hoping for a thunderstorm or two tomorrow 🙈🙈. There are houses that have sprinklers set up sprinkling the road for the marchers to walk through, which helps 👍👍
If you would like to support this gallant effort and keep up with their progress, please follow the link below.
Day 2
Yesterdays update can only come this morning, as we needed to firstly know how one of the team was faring after two gruelling days. Unfortunately Ian isn't able to start day three as the last two days have taken there toll. It was a valiant effort. Onwards and upwards, Jimmy and l will be starting day three on what is known as the seven hills of Groesbeek'.
Ian we wish you all the best and hope that you've been able to rest up.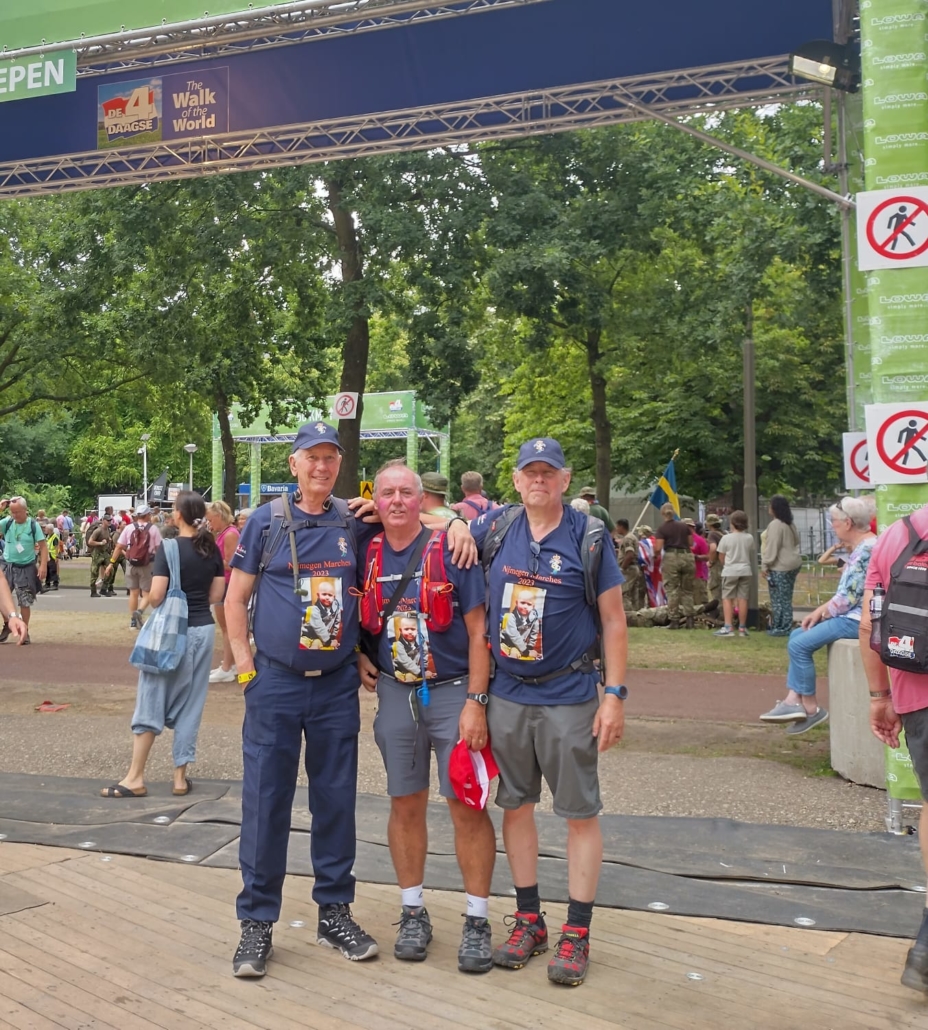 Day 3
The seven hills of Groesbeek have now been dispatched. With 75 miles completed, tomorrows 25 miles should hopefully be a formality. Best of luck chaps!
Celebrating with a well earned beer
Day 4
After 4 days, that was such a beautiful sight to see! Thank you everybody for your messages of support. More to follow…..
After a beer or two to celebrate our completion of the Nijmegen Marches, we have decided to leave the donation site running for another month at least. There are so many that have, if not actually pledged. Certainly implied that they wish to donate to our charities. So by keeping the give as you live page open it will give those people the ability to keep to their word. The physical challenge may now have been completed, but now starts the serious challenge of reaching our target.
There are so many people that have helped us along the way that we need to thank, over and above all that have already donated. We will do this in our final update.
https://www.emmasbubbletrust.org/wp-content/uploads/2023/07/Walk.jpeg
1979
2048
Adam Lynch
https://www.emmasbubbletrust.org/wp-content/uploads/2016/11/Logo-300x212.png
Adam Lynch
2023-07-18 20:35:26
2023-07-28 19:10:23
The Nijmegen Four Day Marches Blog